Mammarossa Restaurant – Avezzano (L'Aquila)
A wooden restaurant with modern lines and a refined design
A wooden restaurant with a refined design
The Mammarossa restaurant in Avezzano, in the province of L'Aquila, is located in an urban context characterized by unevenness and poor architectural value. For this reason it was decided to focus on the design of the wooden structure, managing to detach the building from the surrounding environment and make it an "introverted" unit. Mammarossa is a container for food and wine and cultural events, and its wooden structure forms a shell within which to experience particular sensory experiences.
The convenience and anti-seismic safety of wood meet design
The decision to build the wooden restaurant led to a reduction in construction times and a consequent rapid return on investment. The Mammarossa restaurant takes full advantage of the advantages of wooden buildings, representing an example of harmony between comfort, safety and energy saving.
It is made with the Xlam construction system, which stands out for its solidity, fire resistance and anti-seismicity. These cross-layered wood panels also ensure high thermal insulation which is reflected in the comfort of customers.
Sustainability and aesthetics at the customer's service
For the roof, we chose to use laminated wood, able to guarantee high resistance as well as aesthetic beauty.
The wooden restaurant is an environmentally sustainable structure: for its construction, CE marked materials were used in compliance with the regulations on energy performance in buildings and acoustic insulation. The material comes from Sustainably Managed Forests and complies with PEFC / FCS protocols.
A wooden restaurant with high levels of energy savings
The high-performance thermal envelope, the openings facing north to minimize heat loss and the low thermal conductivity of the wood make the Mammarossa restaurant a wooden building with high energy saving performance.
Excess moisture is naturally absorbed by the wood which releases it when necessary. In addition, the structure is equipped with thermal solar panels placed on the roof, which reduce energy consumption.
Wood is the protagonist
The main material used in this architectural creation is wood in all its declinations: in addition to the vertical supporting structure in Xlam and the lamellar roof beams, internal wall cladding in treated fir, oak and curved beech panels was opted for. for furnishing elements such as counters, tables and chairs.
The presence of wood is mitigated on the outside by an alternation between the larch strip cladding and the white surfaces made of thermal insulation panels, and on the inside by the presence of a resin-coated industrial concrete floor.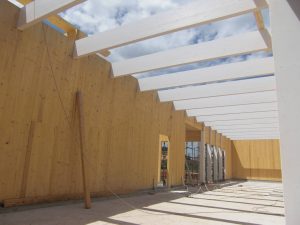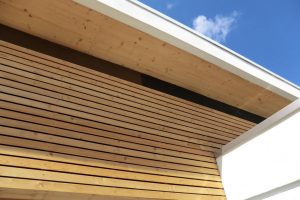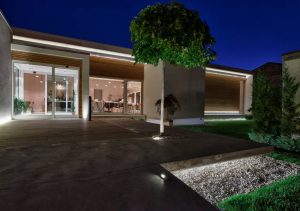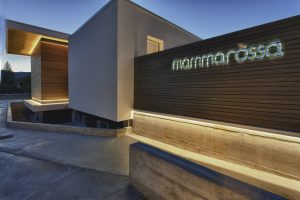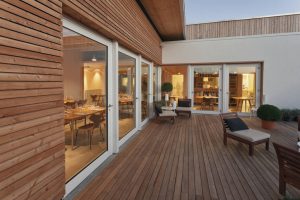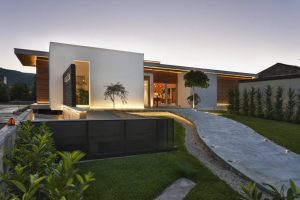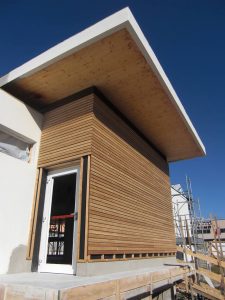 Are you interesed?
Let us suggest you!
The purchase of your own home is a moment full of expectations and needs.
Precisely for this Sistem Costruzioni is the right choice: a solid, earthquake-proof, comfortable, eco-friendly, fire-resistant, energy-efficient and above all beautiful !!

Get in touch with our technicians who will explain you how to make the house of your dreams .