Renazzo Church (Ferrara, Italy)
A prefabricated wooden church with low construction and management costs
The design of the church, which was developed to create an alternative place of worship following the structural damage of the historic building caused by the 2012 earthquake, is based on the concepts of modularity, flexibility, versatility, ease of execution and containment of construction and running costs.
The project concept builds on the idea of assembling several timber modular units the shape of which was subsequently modelled in relation to the needs of the site and the local community, with a high level of attention paid to the architectural and liturgical aspects.
Composition of the timber church
The design project comprises a nave area composed of a single space. The internal height is 3 m for the side aisles (areas of worship) and approximately 6 m for the central nave. The entrance to the church has four doors facing different directions, symbolising a crossroads and meeting place.
A large glazed area on the north face fills the interior of the building with natural light so artificial lighting is unnecessary during the hours of daylight: the window also offers a view of the bell tower of the historic church this creating a sense of continuity between the old and the new. The building thus communicates with the surrounding environment by means of the access routes, the key prospects and the reduced volumes of the architectural space.
A flexible timber construction suitable for future functional transformations
The design solution of creating a flexible structure is perfectly compatible with the idea of a temporary building designed to replace the traditional place of worship for the time required to repair the damaged historic church. Once the damaged church has been repaired, the temporary building can be used for alternative uses related to parish activities. The simplicity of composition, thanks to the construction technology employed utilising timber elements, is compatible with the differentiation of functions, spaces and distribution paths and with the building's flexibility of use.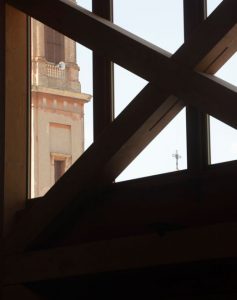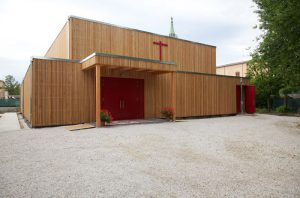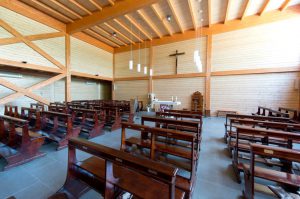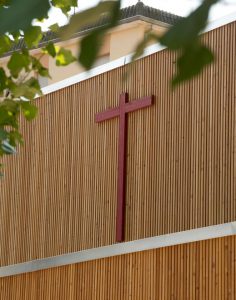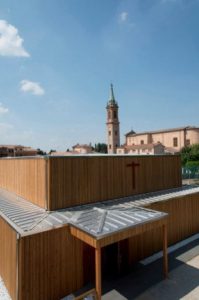 Are you interesed?
Let us suggest you!
The purchase of your own home is a moment full of expectations and needs.
Precisely for this Sistem Costruzioni is the right choice: a solid, earthquake-proof, comfortable, eco-friendly, fire-resistant, energy-efficient and above all beautiful !!

Get in touch with our technicians who will explain you how to make the house of your dreams .